Weaver Words Literature Festival – New dates
Wednesday 1st – Sunday 5th September 2021
We are delighted to bring you an exciting five day programme, packed full of fascinating events, talks and creative workshops.
After being cancelled twice due to the pandemic lockdown, we are very excited to be back on stage hosting almost all the events scheduled for the original festival in May 2020.
Highlights include BBC radio legend Mark Radcliffe, award-winning Manchester poet Michael Symmons Roberts, TV crime expert and forensic psychologist Kerry Daynes and comedian Mitch Benn, from BBC Radio Four's hit satirical Now Show.
Guardian journalist and author Henry McDonald will be offering his unique perspective on Northern Ireland, Prof Michael Parkinson will talk about saving Liverpool from the 1980s militant era onwards and our own festival manager Lynn Pegler will be staging a new play about Lewis Carroll and his complex relationship with the real Alice.
The theme for this year's festival is 'Edgelands'- those awkward, dysfunctional places, both actual and virtual.
Given the impact of the Covid pandemic, national lockdowns, widespread mental health and environmental issues, not to mention Brexit, it seems to reflect the national mood perfectly at the moment!
With lots of different creative workshops and events, plus a pop-up poetry map, there's much to enjoy in this fantastic five day festival. We look forward to welcoming you.
Many thanks to our patron Tim Firth and all our wonderful sponsors, supporters, volunteers and helpers who make this festival possible.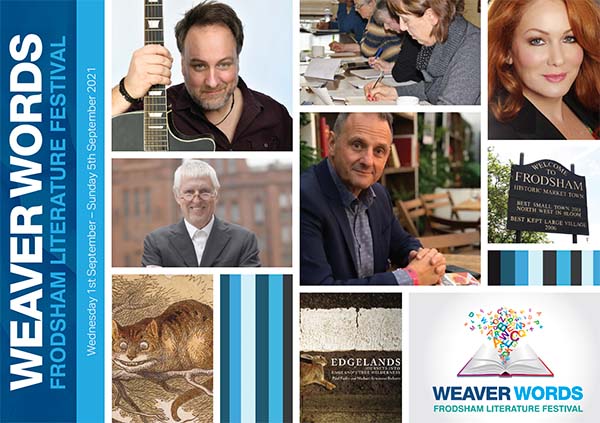 Flash Fiction Competition
The new deadline for the Flash Fiction Competition, sponsored by FDR Law, is now 31 July 2021. Shortlisted finalists will be invited to the Word Weavers event on Sunday 5 September, when the winners will be announced. Find out more…