'Best-ever' Weaver Words Literature Festival 2023 – a great success
Many thanks to all our brilliant speakers, performers, workshop leaders, volunteers and record-breaking audiences for making the 2023 Weaver Words Literature Festival the 'best-ever'.
Headline acts like the Poet Laureate Simon Armitage, TV drama legend Sir Phil Redmond, a Bronte afternoon tea and a Literary Cruise along the River Weaver all proved incredibly popular.
Actor Gerald Dickens, the great great grandson of writer Charles Dickens, performed a stunning, fast-paced one man show of Great Expectations, and on the night of the coronation, writer Sharon Wright and actor Abigail Halley took audiences to new heights in a comedy play about the first female balloonist, 'Fly Me: Mrs Sage and the Mile High Club'.
A series of fascinating seminars explored a diverse range of topics, from Welsh poet R.S.Thomas and the secrets of self-publishing to recent political threats to the British Constitution, 'Bonfire of the Decencies', with London University politics professor Andrew Blick.
Promoting new writing was at the heart of the festival, with a Word Weavers event devoted to poetry from Andrew Rudd and Sarah Clare Conlon, and writing workshops delivered by poets Julia McGuinness, Jean Atkins and crime novelist Martin Edwards.
Festival patron Calendar Girls writer Tim Firth entertained audiences on the final Gala Night with a fascinating insight into the professional theatre world. He also presented prizes for the festival's two writing competitions.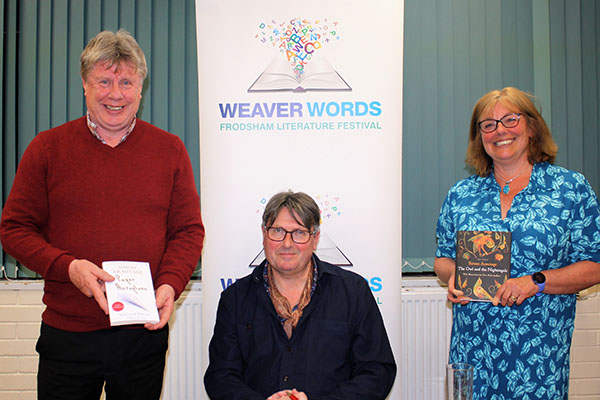 Poet Laureate Simon Armitage at Frodsham Community Centre.
Festival manager Lynn Pegler said: "It has been a fantastic festival – the best we've ever staged. Seven events sold out, which is unprecedented, and hundreds of people enjoyed a diverse range of thought-provoking and enjoyable speakers, plays and workshops.
"Attracting the national Poet Laureate to our small market town in coronation week was a particular coup and very much appreciated by the enthusiastic audience at Frodsham Community Centre. From the launch of a new literary series at the town's Main Street Kitchen with radio legend Mark Radcliffe to stand-up comedy with Frank Melling at Chapter Brewing, we have been delighted to explore new venues and create new opportunities."
Watch out for news of the next festival in Spring 2025.
---
CONGRATULATIONS TO WINNERS OF OUR TWO WRITING COMPETITIONS
Frodsham Flash Fiction Prize
Frodsham Flash Fiction Prize was won by Anne Caldwell with a hard-hitting short story on sexual violence. Find out more and read the winning entries here.
Great Weaver Words Writing Prize
Nearly 300 entries were received for the Great Weaver Words children's writing prize, sponsored by Encirc glass manufacturers of Elton, and judged by Tim Firth. Find out more…
---