Frodsham Flash Fiction Prize
Adult creative writing competition
Sponsored by FDR Law


Judges: Novelist Nicholas Royle and Professor Sue Zlosnik
Word limit: 300 words (not including the title)
Prizes: 1st £300, 2nd £150, 3rd £50
Entry fee: £3 per entry. No limit on the number of entries.
Deadline: NOW EXTENDED to 28 February, 2021
What is flash fiction?
Flash fiction is a bite-sized story for the sound bite age. It often contains the classic story elements: protagonist, conflict, obstacles, complications and resolution. However unlike a traditional short story, this brief form often leaves some of these elements unmentioned. There is often a twist in the tale and stories which involve humour or surprise work particularly well.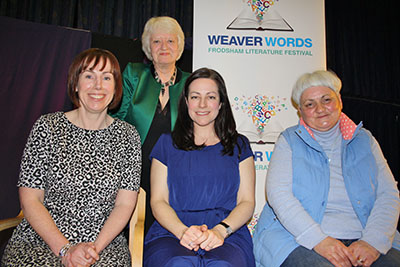 Eligibility
The Frodsham Flash Fiction Prize is open to any UK resident. Stories can be about any subject.
Judging
The judges will be Prof Sue Zlosnik, Emeritus Professor of English at Manchester Metropolitan University, and Nicholas Royle, award-winning short story writer and author of seven novels and 12 short story anthologies. He is a Reader in Creative Writing at Manchester Writing School.
The judges' decision is final and no individual correspondence can be entered into.
Judges are unable to comment on individual entries. Submission of entry implies acceptance of all the rules. Failure to comply with the rules may result in disqualification.
Prize winners
Writers of the best ten short-listed entries will be invited to attend the final Gala Celebration Event of the Weaver Words festival (Date TBA). The results will be announced at the event and a list of winners and the three best flash fiction pieces published afterwards on the Weaver Words website. Finalists will be notified beforehand.
Download the Flash Fiction flyer.
How to enter
All entries will be judged anonymously. Do not include your name, address or any identifying mark on the story document, other than the story title at the top of the first page.
Stories should be typed, single sided and securely fastened together. Each entry should be accompanied by a separate sheet of paper giving the entrant's name, address, date of birth, contact telephone number and email address (if available). You should also include on this sheet, the title(s) of your story(s).
You can enter as many stories as you like but each flash fiction piece must be accompanied by an entry fee of £3. Please enclose a cheque for the total made out to Frodsham Community Association. Send entries to: Flash Fiction Prize, Weaver Words Festival, Frodsham Community Centre, Fluin Lane, Frodsham, Cheshire, WA6 7QN.
Or complete the form below and pay online.