Great Weaver Words Writing Prize
September 2021 – Great Weaver Words Children's Writing Competition (Senior Section) Results
Festival patron, Tim Firth announced the delayed results of the Great Weaver Words Children's Writing Prize (senior section) – all winners are from Helsby High School. Sponsored by Frodsham and Helsby Rotary.
Jessica P. won first prize and a £30 book token for her poem 'The Land Inbetween'. Read it below.
Amelie J. was awarded the runner-up prize of a £20 book token for 'The In between Place'. Read it below
Highly commended, with a £10 book token, were: Lilly B, Christa B, Alex C, Dylan D, Darcy D, Finlay Jarvis, Macie L, Sonny S, Ellie U, Ivy W.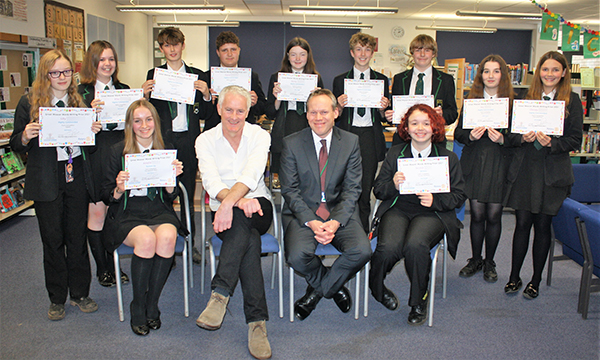 'The Land Inbetween' – Winner
Every step I take through this hellish place,
brings me nearer, nearer to the fate,
that has been decided for me. My page comes to a halt.
This land…I stand here in this purgatory to this life.
Life between the hatred and despair,
the lustrous fame and fortune.
The ground below engulfs my body,
my feet, my legs, my elbows.
Movement feels impossible…..
The endless tale has an end?
How could it be?
But it wasn't supposed to end like this!
This is not what it was meant to be like….
All hope is destroyed,
Chaos has taken over,
I begin to fail, fall.
Darkness, the jealousy has taken the wheel.
The wheel of the brittle ship which sails…
Struggles on the vast, destructive waves…
In this storm….
This new life without a happy ending.
'The In between Place' – Runner up
Not in one place or another,
A sort of in between place,
On the way to darkness,
the steam our only trace.
Nothing would save us now,
not the scream or muffled cries.
Leaving behind our homes,
Saying our last goodbyes.
"Out with the old, in with the new"
said the quiet voice inside my head,
yet the tracks beneath us drowned it out.
It had nothing left to be said.
The last bit of hope was gone.
Endless amounts of eyes watching the fields leave,
wishing they weren't at the place they thought it to be.
But then hell came into view, why me?
The train came to a sudden stop.
We stamped our way out in orderly rows.
Some cowered from our place.
I would've never gotten off that train if I had known.
Sometimes I wish, I hope, I dream
that I'm still in that in between place,
not in one place or another,
but now I will be gone without a trace.
July 2020: Great Weaver Words writing competition junior prize winners
Winners of the Great Weaver Words Writing Competition (Junior Section) have been announced and awarded certificates plus £200 worth of book token prizes.
Norley and Helsby Horn's Mill primary schools both have a winner and five runners-up in the competition, which was sponsored by the Frodsham and Helsby Rotary Club.
Judged by award-winning writer and festival patron Tim Firth, the creative writing competition winners would normally have been announced at a special schools event as part of the five day Weaver Words Literature Festival, but organisers were keen to award the prizes before the end of the summer term when some children are due to change schools. The senior school key stage 3 prize will be held over and awarded at the 2021 festival.
Many congratulations to all the short-listed children:
At Norley Primary School, the winner was Micah J, with runners up: Erin S, William H, Isobelle Y, Leo P and Harry D.
At Horn's Mill Primary School the winner was Lilia H, with runners up: Lauren D, Lea P, Amber McGing, Evie G and Maiya A.
Weaver Words festival manager, Lynn Pegler, said: "Many thanks to all the children who entered the creative writing competition and the schools for supporting them. The pupils produced some excellent imaginative, historical stories and hopefully we have helped to nurture creative talent for the future.
Sadly all the judging and presentation arrangements had to adapt to the changing lockdown situation and the children have had to receive their prizes through the post instead of being presented with them on stage at the festival. Although not ideal, we hope the children will take the same pleasure and pride in their achievements."